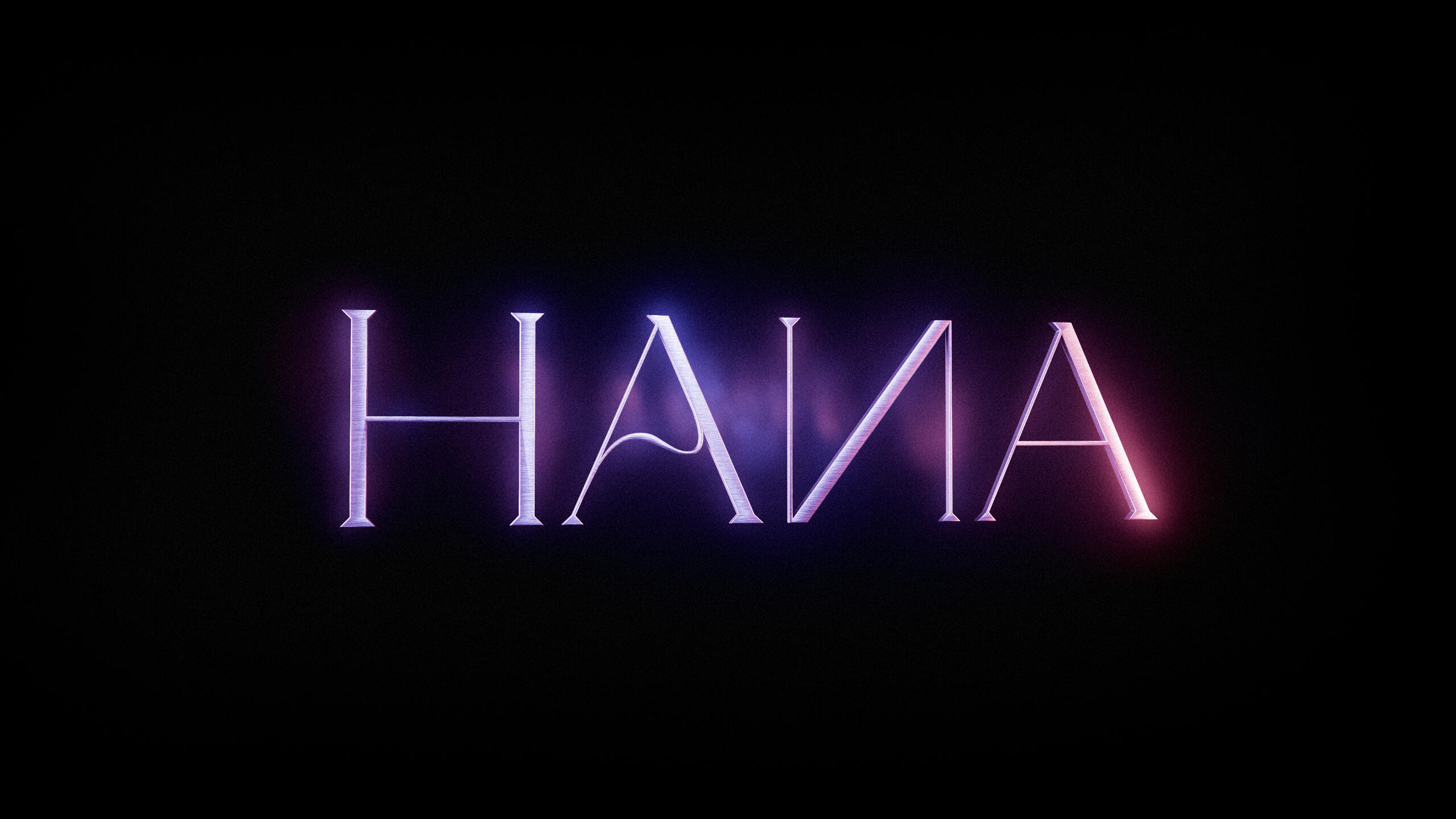 Criatura
In the depths of her mind, pain takes the form of a creature. A love relationship unleashes the obscurity within, to evoke in the real world, a world of shadows.
Winner of the Pardino d'oro for the Best Auteur Short at the Locarno Film Festival, "Creature" is a sensorial experience, a journey towards what hurts. It is a glimpse into the demons for so many years silenced, that today, are pushing themselves into the surface.
---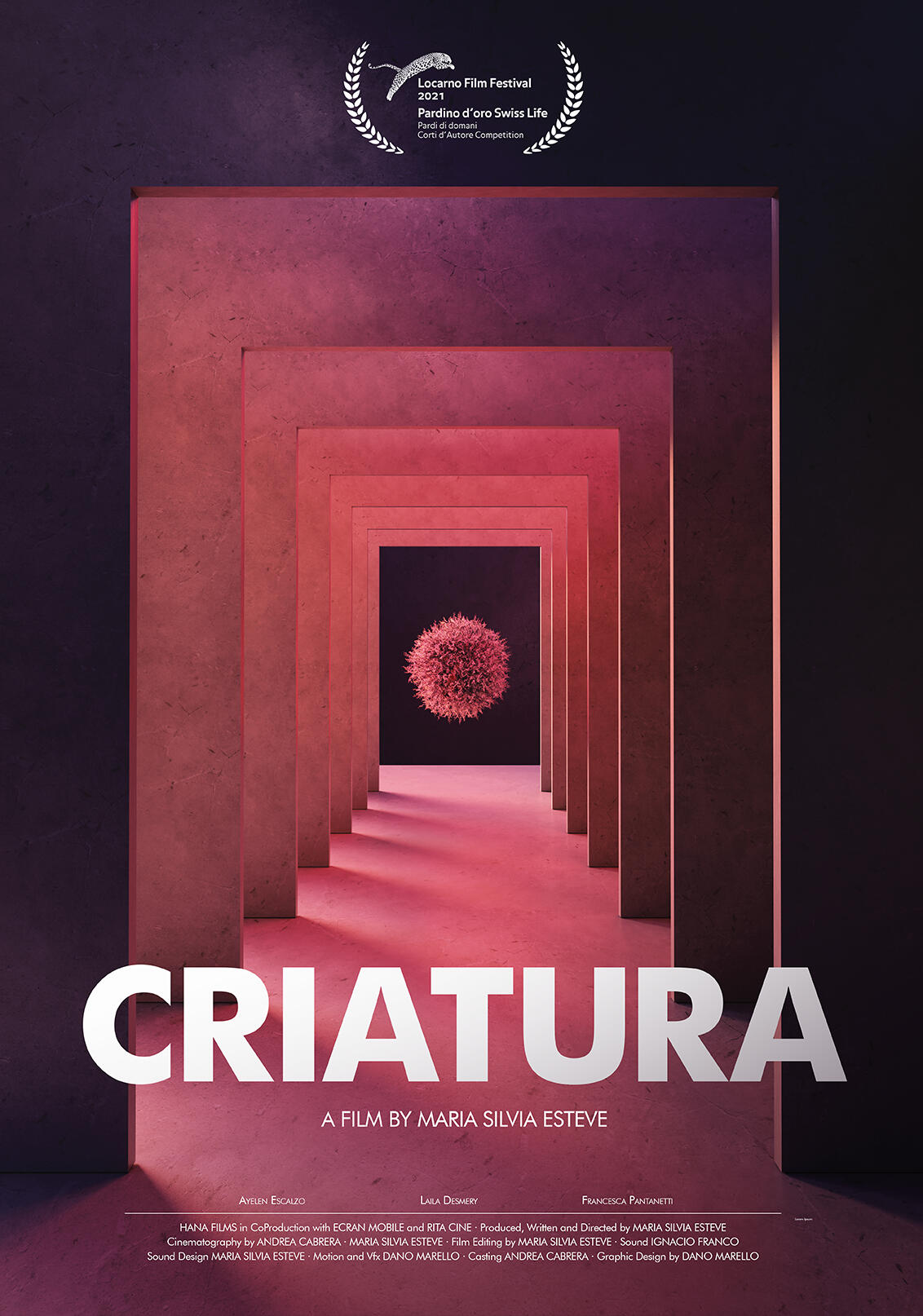 Written and Directed by
María Silvia EsteveProduced by
María Silvia EsteveCoproduced by
Laura Gabay and Laura
Mara TablónCinematography by
María Silvia Esteve and Andrea CabreraVFX and Graphic Design by
Dano MarelloEditing by
María Silvia EsteveA production of
Hana Filmsin coproduction
Ecran Mobile & Rita CineArgentina - SwitzerlandRunning time: 16'
2021
• Pardino d'oro winner to the Best Auteur Short Film,
Concorso Corti d'autore, Locarno Film Festival
• Innovation Award, Landshuter Kurzfilmfestival.
• Grand Jury Prize, Castrovillari Film Festival.
• Best Director Winner, Castrovillari Film Festival.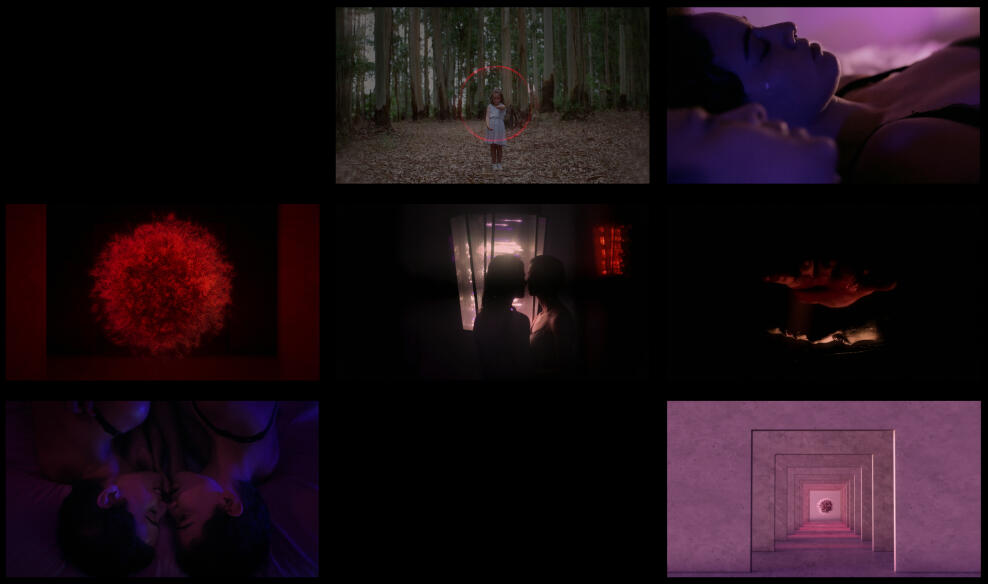 SELECTIONS
74º Festival International
del Film Locarno
Switzerland54º Sitges Festival Internaciona
Cinema Fantastic
Spain70º Melbourne International
Film Festival (MIFF)
Australia11º Festival International
de la Roche-sur-Yon.
France5º El Gouna Film Festival.
Gouna. Egypt26º Fantasia International Film Festival
Montreal, Canada26º Bucheon International
Fantastic Film Festival (BIFAN)
South Korea43º International Cinematographers
Film Festival "Manaki Brothers"
North Macedonia27º Geneva International Film Festival.
Switzerland25º International Short Film
Festival Winterthur.
Switzerland11º Bucharest International
Experimental Film Festival.
Romania11º Festival de Cine Independiente
de Madrid. Márgenes.
SpainWomanInFan+CIMA.
Madrid. Spain23º Festival FILMAR en América Latina.
Switzerland27º Festival du film lesbien, gay, bi,
trans, queer et ++++ de Paris -
Chéries
Chéris. FranceFestival Internacional de
Cortometrajes de Aguilar de Campo.
Spain39º Festival Cinematográfico
Internacional del Uruguay.
Uruguay16º Cinemartinique Film Festival.
MartiniqueOTRO AMOR • ANOTHER LOVE. CinemaAttic.
Glasgow - Edinburgh - UK19º ZINEGOAK. Festival Internacional
de Cine y Artes Escénicas Gaylesbitrans.
Bilbao. Spain35º Semana de Cine
Medina de Campo.
Spain22º Landshut Short
Film Festival. Munich.
Germany34º Filmfest Dresden - International
Short Film Festival.
Dresden. Germany24º Mecal Pro, the
Barcelona International
Short and Animation Festival.
Barcelona. Spain49º Athens International
Film and Video Festival.
Ohio. USA24º Pink Apple Short
Film Festival. Zurich
Frauenfeld, Switzerland
Festival La Mujer y El Cine.
Bs. As. Argentina45º Norwegian Short Film
Festival. Grimstad
Norway13º KASHISH Mumbai International
Queer Film Festival.
India13º Leiden Shorts Festival.
Netherlands23º ShorTS - International Film Festival.
Trieste, Italy9. Tenerife Shorts - La Laguna
International Short Film Festival
Islas Canarias, Spain21º Neuchâtel International Fantastic
Film Festival - Screem Queer.
Neuchâtel, Switzerland8º Festival du Film Insolite
de Rennes le Chateau.
France45º Festival du Film Court
en Plein Air de Grenoble.
France4º Visible - Festival de Cine LGBTIQ+
Panama33º São Paulo International
Short Film Festival - Curta Kinoforum
Brasil17º Shorts México - Festival Internacional
de Cortometrajes de México
México33º Lesbisch Schwule Filmtage Hamburg.
Germany16º Festival Internacional de Cine de Gibara.
Cuba26º International Short Film Festival Winterthur
- Magic realism/creatures programme.
Switzerland20º Vancouver Latin American
Film Festival - Queer Pix program.
Canada4º Castrovillari Film Festival.
Italy8° Festival de Cine Espacio Queer.
La Plata, ArgentinaFestival Internacional de
Cine entre Glaciares.
Argentina5º Porto Femme - International Film Festival.
Portugal32º Oslo/Fusion
International Film Festival.
Norway27º Seattle Queer Film Festival.
USA10cortos10, Centro
Cultural 25 de Mayo.
Argentina9º Festival de Cine
Nacional Leonardo Favio.
ArgentinaVisible, Festival de Cine
LGBTI+ de Panamá.
Panamá27º edición de LesGaiCineMad, Festival
Internacional de Cine LGBTI+ de Madrid.
España30º Festival Mix Brasil de
Cultura da Diversidade.
Sao Paulo, Brasil
PRESS
Silvia
A poetic family chronicle in which a diplomat's daughter and her two sisters try to come to grips with the great drama of their mother's life. The film deals with all that pulsates beneath the omissions, the deviations that arise from trying to piece together Silvia's memory.
Part documentary, part re-cut, the pieces of the past are accentuated, blurred, frozen, and played backward until the family chronicle becomes a universal drama, raising questions about memory, truth, illusions and appearances, as well as the nature of parent-child relationships.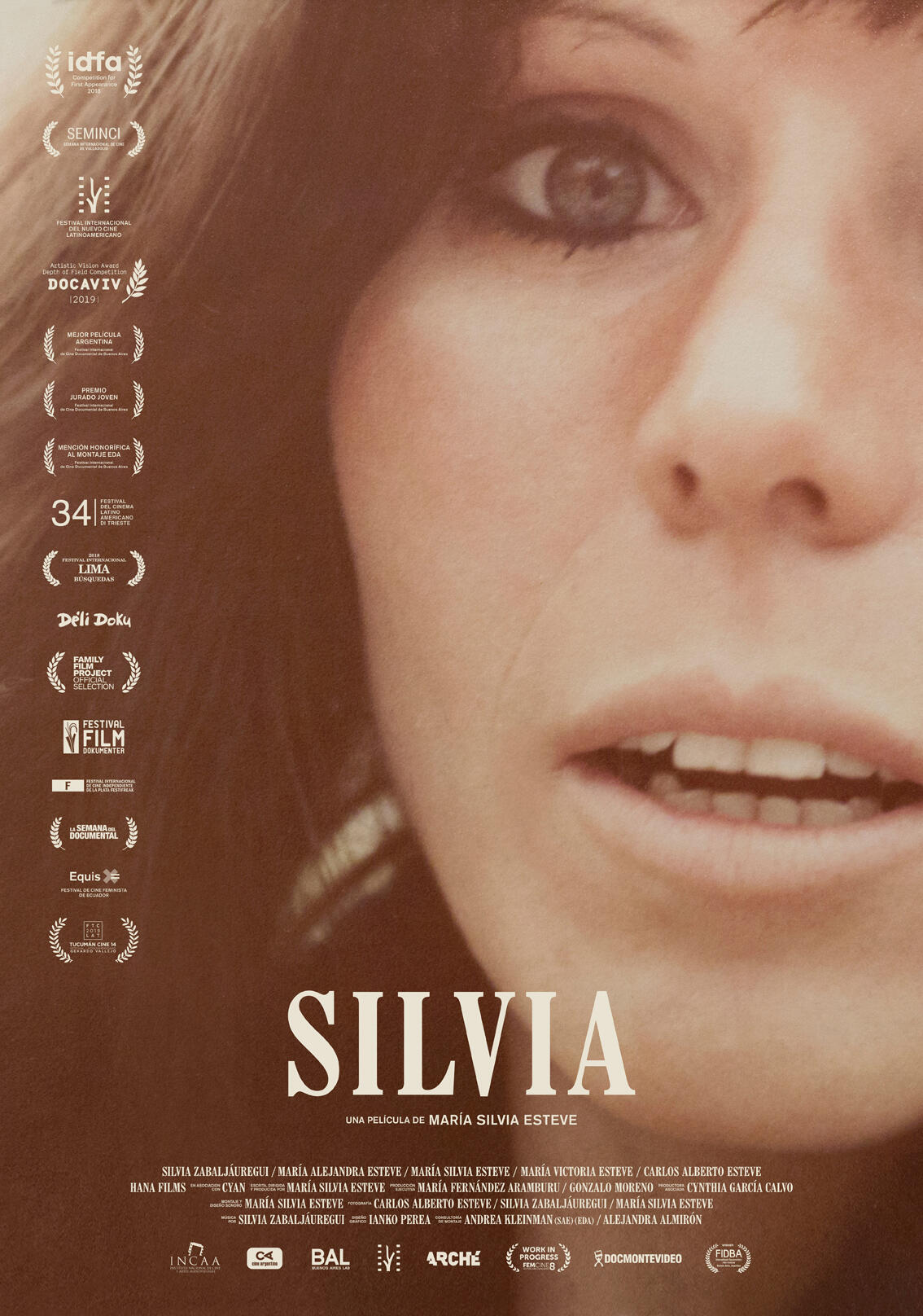 Written and Directed
by María Silvia EsteveProduced by
María Silvia Esteve and María Fernández AramburuCinematography
by Carlos Esteve, Silvia
Zabaljáuregui, María Alejandra Esteve, María Silvia EsteveEditing
by María Silvia EsteveGraphic Design by
Ianko PereaA production of
Hana Filmsin association with Cyan
Argentina - ChileRunning time: 103'
2018
• Artistic Vision Award, Depth of Field Competition, DocAviv
• Best Argentine Documentary, FIDBA.
• Young Jury Award, FIDBA.
• Coral Award, Habana Film Festival.
• Special Mention of the Jury to the Film Editing, Argentine Association of Film Editors - EDA.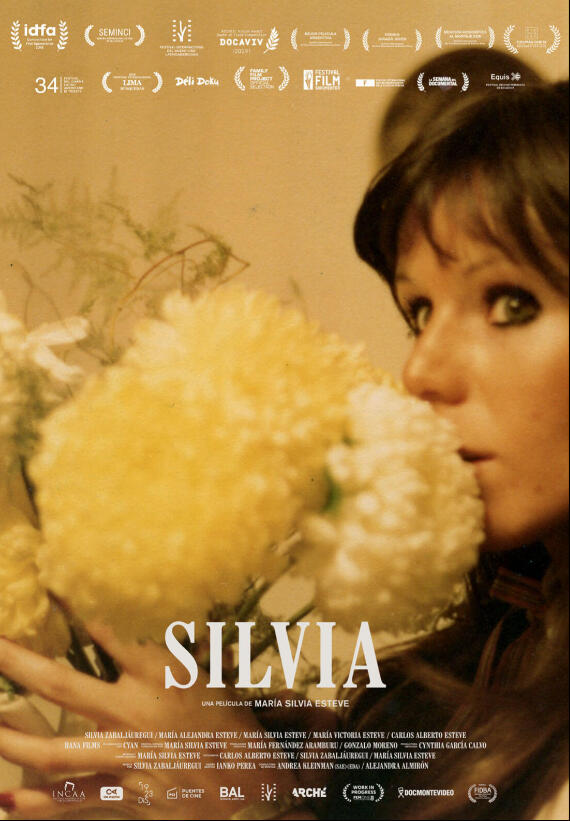 "Silvia is an essay of heartbreaking rawness, honesty and sensitivity. It is so much more than a mere exercise in found-footage or a complacent home movie, but it is an intimate exploration made by the director - with contributions from her two sisters' memories - of a life marked by intrafamiliar violence, depressions, hospitalizations, and the contradictions of a woman submitted against her wishes to the mandates of others. The film proposes an external and internal journey that is at the same time a complaint against male chauvinism, a love letter, a cathartic exercise and an act of reparation."
Diego Battle
SELECTIONSIDFA, First Appearance Competition, Amsterdam - 2018.DocAviv, Depth of Field Competition, Tel Aviv - 2019.Festival de Cine de Lima PUCP, International Competition - 2019.The Documentary Week DocMontevideo, Montevideo - 2019.14º Festival Tucumán Cine "Gerardo Vallejo", Tucumán - 2019.Buenos Aires International Documentary Festival FIDBA - 2019.Festival Internacional de Cine Independiente de La Plata - 2019.Déli-Doku, Budapest - 2019.Valladolid International Film Festival SEMINCI, Valladolid - 2019.Family Film Project Porto, Porto - 2019.34° Festival del Cinema Latino Americano di Trieste, Trieste - 2019.EQUIS, Festival de Cine Feminista, Ecuador - 2019.Festival Film Dokumenter, Indonesia - 2019.41 Habana Film Festival, Cuba - 2019.Femcine - Festival Cine de Mujeres, Santiago - 2019.FIM - Women's International Film Festival, Brasil - 2020.EQUIS, Festival de Cine Feminista, Ecuador - 2020.Cine bajo las estrellas/Señoras Directoras, Manzana de las Luces
34ª FICVIÑA - Festival Internacional de Cine de Viña del Mar, Chile
AS A WORK IN PROGRESSPostproduction Coral Award, Habana Film FestivalWalla Collective Award for the Best Project, DocLisboa - ArchéBest Film Project, FemCine WIP.Best Argentine Project, FIDBA
WIP:LABFNA - National Fund of Arts AwardBAL - BAFICISelected for the Rough Cut Lab with João Moreira Salles, DocMontevideo
About us
Based in Buenos Aires, Argentina, HANA Films is an audiovisual female collective, focused on the creation of auteur pieces made by women.
Since it was founded in 2018, it has worked on different mediums, while seeking for new forms of language through independent productions. Today, its process emerges from an experimental search, portraying personal stories, to speak of the universality of the themes addressed.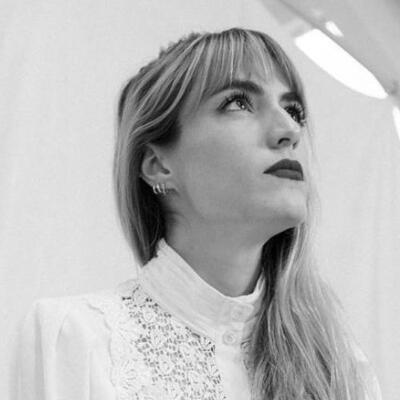 Maria Silvia Esteve
María Silvia Esteve is an argentine filmmaker, awarded by the Association of Authors of Cinematography AEC, before debuting her career with "Silvia", in 2018. Her documentary feature film had its World Premiere at IDFA, received the "Artistic Vision" Award at Docaviv, and won at Habana Film Festival, DocLisboa, amongst others.
Selected for The Biennale of Young Art Buenos Aires, the director participated in IDFA Summer School and IDFA Project Space, with her project in development "Mailin". In 2022, the project won the IDFA Bertha Fund and was a double award winner at the Visions du Réel Industry 2022 as the project with the highest international potential.
As the only Argentine film in Cannes 2022, her short film "The Spiral" had its World Premiere at the 54th Quinzaine des Réalisateurs.
Currently, Silvia has begun writing her first fiction feature "Fauces", selected for the TorinoFilmLab, and winner of the Focus COPRO' 2022 - Festival de Cannes. The film is based on her short film "Criatura", winner of the Pardino d'oro for the Best Auteur Short film at the Locarno Film Festival 2021.
As part of the selection of the Locarno's Spring Academy 2022, and under the tutorship of Michelangelo Frammartino, she wrote and filmed "Atessa", which is in postproduction.
Mery Fernandez Aramburu
Mery started her career as a graduate from Universidad del Cine from Bs As.
As a Producer, her first featured documentary "Silvia" from Maria Silvia Esteve, was premiered on IDFA 2018 at the First Appearance Section and was the winner at Depth of Field Section at DocAviv 2019.
Her second featured documentary as a Producer, "Yo Soy Alma" from Mariana Manuela Bellone premiered at Festival Amor in Chile in June 2022 and then at Asterisco Film Festival in Bs As.
Most of her working experience was as an AD in films, television and publicity for a long time, with the most important Production Companies in Argentina.
With the previous experience working with Hana Films team on their backs, they are now collecting projects to produce some of them and slowly make their way thru becoming a Production Company specialized in beautiful, artistic and committed films as well as strong and collaborative events and cultural impact projects.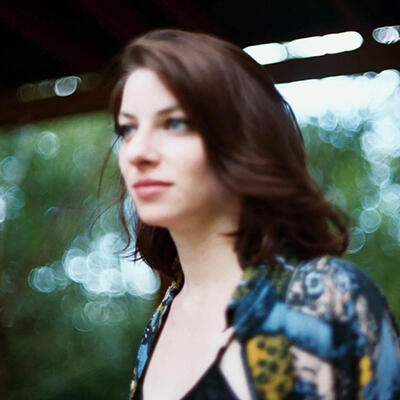 Dano Marello
Dano Marello is a Visual Artist and Graphic Designer from Buenos Aires, Argentina. Graduated from Facultad de Arquitectura, Diseño y Urbanismo, FADU UBA.
She began her professional career as a designer for agencies such as R/GA, then as Art Director at Plenty.tv and Lead Graphic Designer at Google.
Dano Marello has been working in digital collages for 10 years and is currently continuing to deepen her work in 3D, seeking to conceptualize stories and narratives. She enjoys integrating fragments of textures and shapes to different scales in geometric and uninhabited landscapes, one of which can be seen in CRIATURA, by Maria Silvia Esteve, which won the Pardino d'Oro at the Locarno Film Festival.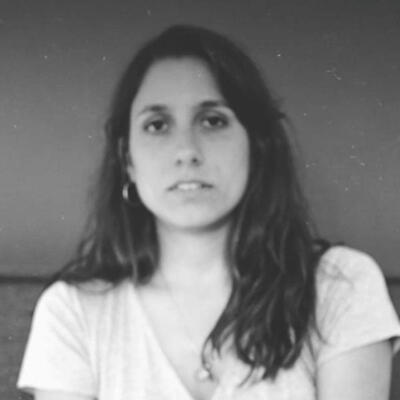 Andrea Emilia Cabrera
Andrea Cabrera is an Image and Sound Designer (UBA), photographer and teacher. Since 2009, she has participated in both fiction and documentary projects, fulfilling the roles of direction, photography, editing and script.
She is the director of photography of the documentary project in development MAILIN and of the short film CRIATURA (both directed by María Silvia Esteve), the latter winning the Pardino d'oro award at the Locarno Film Festival (Switzerland).
She gave seminars on screen acting classes, and has exhibited video installations such as, AHORA Y SIEMPRE, with the participation of the Mothers of Plaza de Mayo Association, and M, THE QUESTIONS.
Since 2012, she has been working as a university professor at different national universities and has carried out the Escuela de Cine del Arroyo project for children and adolescents, in the COVI settlement (Quilmes, Buenos Aires province).